Markus T
MARKUS T Eyewear – behind this name lies the designer, Markus Temming. He has been designing exclusive eyewear using intelligent technical constructions since 1999. From the onset, he aimed to produce glasses that are 100% Made in Germany. And this is something he has certainly achieved. Around 60 people are now working in the production company in Gütersloh, Westphalia. Suppliers either come from the region itself or from the more far-flung areas of Germany. Following the age-old tradition of German engineering, a pair of glasses by MARKUS T is a quality product that is 100% Handmade in Germany.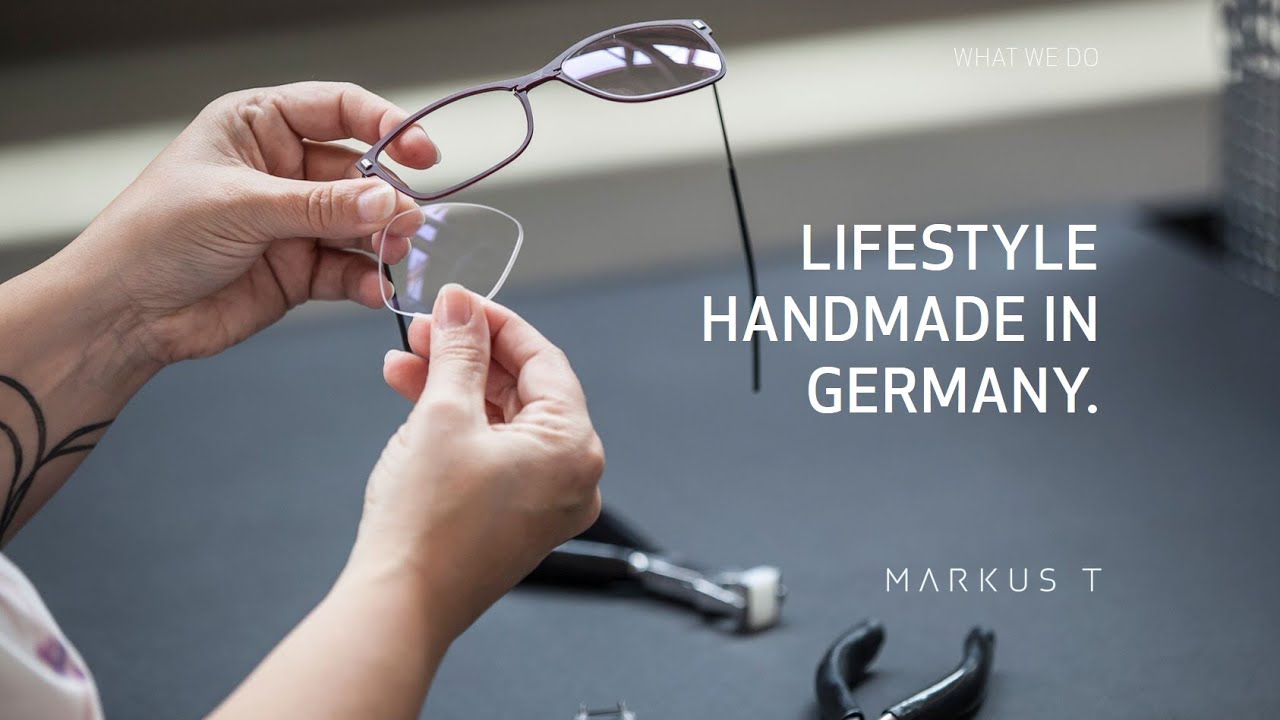 As a matter of fact, it was at his own kitchen table that Markus Temming first produced glasses frames by himself. His first bold steps towards becoming independent were taken with courage and inventive talent. The charming farmhouse in Gütersloh-Isselhorst still remains the company's headquarters even today, its location a declaration of its Westphalian roots. Since that time, over a period spanning more than ten years, his team working in production and distribution of the owner-managed business has grown into a workforce just short of 60 people.
Markus Temming has already been distinguished as a family-friendly employer for his individual working time models. Aware of his social responsibilities, he allows his employees to work hours which suit the needs of their families. This way everybody wins, since stress-free working conditions and a positive working environment contribute towards the high product quality of MARKUS T Eyewear.
DESIGN
Glasses should look good, reflecting the wearer's style and personality. They should fit comfortably, last a long time, and cause the minimum of fuss. Put simply; they should be up to the job. There should be only one thing left for the wearer to do – feel comfortable.
When Markus Temming designs glasses, the basis for his design lies in its functionality. He designs technologies which improve on comfort, both in terms of fit and, above all, for daily use. At the same time, the technical features become an element of the eyewear design. And so in turn, the typical character of a pair of MARKUS T Eyewear evolves.
TECHNOLOGY
MARKUS T Eyewear uses material of the highest quality – titanium. It is durable, lightweight and anti-allergen, making it the best possible material for eyewear. Markus Temming would not be satisfied with anything less. Polyamide "TMi" was developed with the express intention of bestowing synthetic frames with these characteristics too. Extremely thin glasses parts can be realised with this unique material. This is because it is lighter, stronger and more flexible than other synthetics.
All eyewear by MARKUS T are designed without screws because screws are maintenance-intensive. Markus Temming develops clever alternatives in their stead. Inserting the lenses becomes child's play thanks to a special closure system. The typical Markus T small, square, block hinges connect the frame sections, making any follow-up tightening unnecessary.
The technology is also the hallmark of MARKUS T: Markus T wearers can recognise one another by the prominent block hinges and reveal themselves as part of the Markus T Eyewear "community."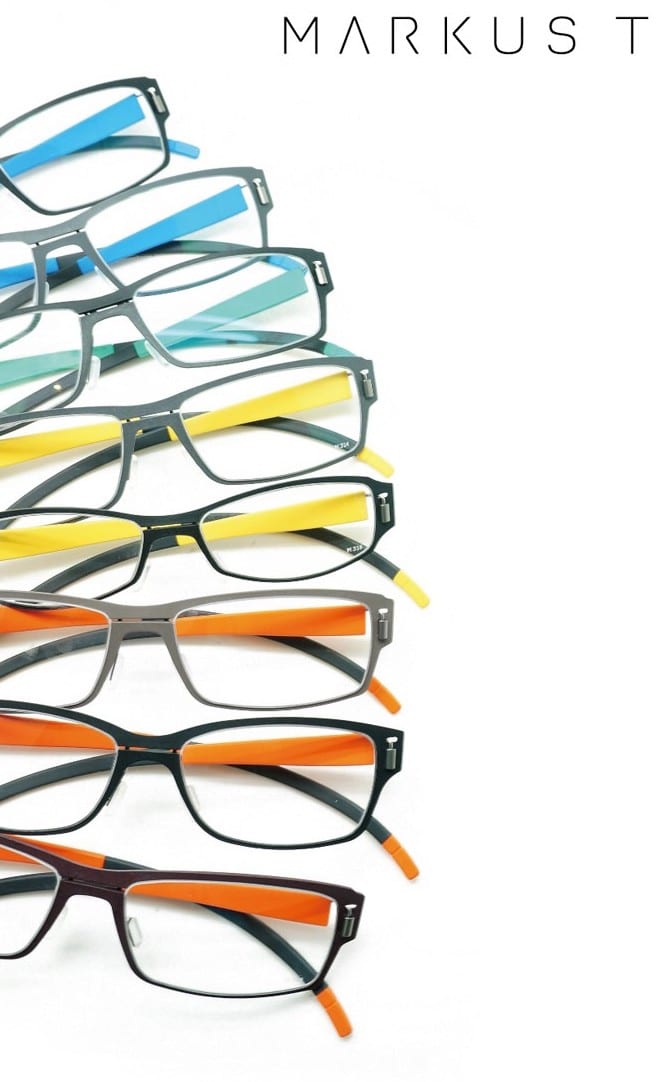 List of Available Stocks in Malaya Optical:
MARKUS T M3 318 DARK BROWN/(042) TEMPLE BLK (051)
MARKUS T M3 311 DARK BROWN(042)TEMPLE GREY(054)
MARKUS T 318 M3 GREY054)/TEMPLE GREY(54)
MARKUS T 323 M3 BLACK(051)/TEMPLE RED (053)
MARKUS T 321 M3 BLACK(051)/TEMPLE RED (053)
MARKUS T 318 M3 BLACK(051)/TEMPLE ORANGE (064)
MARKUS T 322 M3 DARK BROWN (042)/TEMPLE BLACK
MARKUS T M3 322 RED(053) TEMPLE BLK
MARKUS T M3 317 BROWN TEMPLE BLK
MARKUS T T3 323 BLACK(025) TEMPLE TITANIUM
MARKUS T M2 214 BROWN GREY (043) TEMPLE GREY
MARKUS T M2 230 RED (045) TEMPLE GREY (045)
MARKUS T M2 232 DARK BROWN (042) TEMPLE GREY (045)
MARKUS T M2 252 DARK GREY(044) TEMPLE GREY (045)
MARKUS T M2 216 BROWN GREY(043) TEMPLE BROWN
MARKUS T M2 230 DARK GREY(044) TEMPLE GREY(054)
MARKUS T M2 245 BLACK(130) TEMPLE GREY(054)
MARKUS T M3 314 BLACK(051)TEMPLE BLK
MARKUS T M3 319 DARK BROWN(042) TEMPLE BLK
MARKUS T M3 316 BLACK TEMPLE BLACK
MARKUS T M2 214 BLACK TEMPLE BLACK
MARKUS T M3 318 BLACK TEMPLE BLACK
MARKUS T M020 CLIP ON
MARKUS T M037 M2 007597
MARKUS T M037 M2 007637
MARKUS T M020 M2 001351
MARKUS T M027 M2 003219
MARKUS T M027 M 071416 K
MARKUS T M027 M2 009190
MARKUS T M020 M2 003298
MARKUS T M020 M2 010093
MARKUS T M037 M 068853 K
MARKUS T M037 M2 012721
MARKUS T M020 M 071410 K
MARKUS T M027 M2 015001
MARKUS T M026 M2 014951
MARKUS T M026 M2 012727
MARKUS T M022 M 071419 K
MARKUS T M026 M2 014950
MARKUS T M022 M2 003224
MARKUS T M036 M2 012081
MARKUS T M034 M2 014968
MARKUS T M034 M2 012724
MARKUS T M036 M2 012825
MARKUS T M034 M2 012219
MARKUS T M022 M 071413 K
MARKUS T M036 M2 045002
MARKUS T M022 M 071401 K
MARKUS T M036 M2 012122
MARKUS T M034 M2 014953
MARKUS T M027 M 071386 K
MARKUS T M1044/PINK(059)TEMPLE BLK
MARKUS T 314  M3 D.BROWN(042)TEMPLE ORANGE(064)
MARKUS T M3 311 DARK RED/TEMPLE BLK
MARKUS T M3 331 BLACK(051)/TEMPLE BLACK(051)
MARKUS T 312 M3 GREY/TEMPLE BLACK
MARKUS T M3 312 RED(053)/TEMPLE BLACK
MARKUS T 310 M3 BLACK(051)/TEMPLE BLACK(051)
MARKUS T 321 M3 DARK RED/TEMPLE BLACK
MARKUS T M3 314 RED(053)/TEMPLE BLACK
MARKUS T 315 M3 DARK RED/TEMPLE BLACK
MARKUS T 319 M3 PURPLE /TEMPLE BLACK
MARKUS T 310 M3 DARK BROWN /TEMPLE BLACK
MARKUS T 313 M3 RED /TEMPLE BLACK
MARKUS T 315 M3 GREY /TEMPLE BLACK
MARKUS T 314 M3 DARK BROWN/TEMPLE GREEN
MARKUS T 318 M3 B.GREY/TEMPLE BLUE
MARKUS T 326 M3 DARK BLUE /TEMPLE GREY
MARKUS T 325 M3 PURPLE/TEMPLE GREY
MARKUS T M3 315 PURPLE(050)/TEMPLE BLACK
MARKUS T 310 M3 BLACK/TEMPLE YELLOW
MARKUS T 310 M3 GREY/TEMPLE BLCK
MARKUS T 315 M3 RED/TEMPLE BLCK
MARKUS T 321 M3 GREY/TEMPLE BLCK
MARKUS T M3 319 BLACK(051)/TEMPLE BLACK
MARKUS T 326 M3 BLACK (025)/TEMPLE BLACK(054)
MARKUS T T3 330/GREY TITANIUM
MARKUS T T3 313 BRIGHT GOLD (047) TEMPLE TITAMIUM
MARKUS T T3 T316 006410 TITANIUM
MARKUS T M245 RED TEMPLE TRANSPARENT
MARKUS T T336 LIGHT GREEN/TITANTIUM
MARKUS T T334 LIGHT GREEN TEMPLE TITANIUM
MARKUS T T335 MEDIUM BLUE TEMPLE TITANIUM
MARKUS T M3 312 DARK BROWN(042)/TEMPLE BLACK (051)
MARKUS T M3 312 BLACK(051) TEMPLE BLACK (051)
MARKUS T 313 M3 DARK BROWN (042) TEMPLE BLACK
MARKUS T 313 M3 BLACK (051) TEMPLE BLACK
MARKUS T 323 M3 DARK BROWN (042)TEMPLE BLACK
MARKUS T 323 M3 GREY(054)TEMPLE BLACK (051)
MARKUS T 318 M3 RED (053)TEMPLE BLACK
MARKUS T 318 M3 GREY (054)TEMPLE BLACK
MARKUS T M3 315 BLACK (051)TEMPLE BLACK
MARKUS T T3 316 BLACK TITANIUM GREY TIP
MARKUS T 313 M3 BEIGE GREY/TEMPLE BLACK
MARKUS T 313 M3 GREY TEMPLE BLACK
MARKUS T 311 M3 BLACK TEMPLE BLACK
MARKUS T 311 M3 DARK BROWN TEMPLE BLACK
MARKUS T 334 T3 LIGHT GREEN TITANIUM
MARKUS T 335 T3 MEDIUM BLUE TITANIUM
MARKUS T T334 TITANIUM LIGHT/GREEN
MARKUS T T335 TITANIUM MEDIUM/BLUE
MARKUS T M3 314 DARK BROWN(042) TEMPLE GREY(054)
MARKUS T M314 BLACK/BROWN